Enjoy summer evening picnics served socially distanced, in the privacy of our kitchen garden.
Thursday Nights
6:00 pm Seating – Table Reservations – please feel free to arrive anytime between 6:00 and 6:30 pm.
Greenhouse – 3 available, seating 4 to 6 guests
Gazebo – 4 available, seating 2 to 10 guests
Chef's Table – in The Kitchen, seating up to 10 guests
Menu
Enjoy a casual, three course, seasonally-inspired menu in the garden.
Please let us know if you are vegan or have a gluten intolerance.
A selection of recommended wines and beers will be available and offered at an additional cost.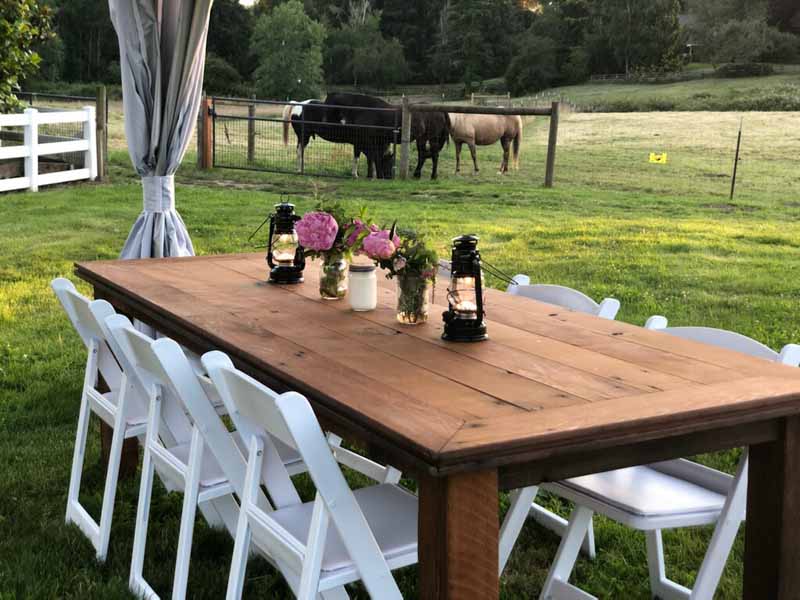 The Gazebos
Al fresco dining at a reclaimed wood table in the green grass near the gardens. Covered with a crisp white tent with lovely twinkle lights with optional walls for privacy or weather protection. Each gazebo accommodates 2 to 10 guests.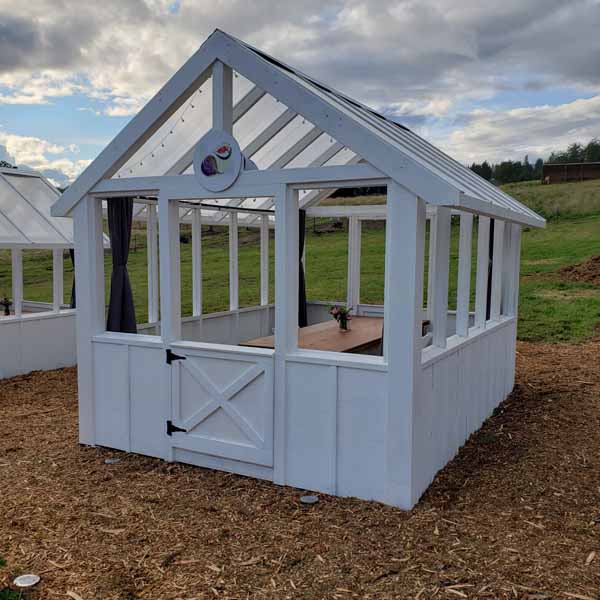 The Greenhouses
Enjoy an intimate dinner for 4-6 people in your own cozy garden-side greenhouse. The space is fully enclosed with Dutch-style doors at each end and glass walls – enough openness to feel the breeze, but completely private without losing your view of the gardens.
Chef's Table
A taste of what you are used to enjoying at The Kitchen! You will enjoy an indoor dining experience at our reclaimed barn wood table in the active kitchen. You'll be served by one of our chefs as they work in our open kitchen to prepare dinner.
Pricing
$55 per person, plus beverages
$20 corkage fee for bottles brought to dinner
NOTE: Your table deposit will be applied to your final bill.
Upon Arrival
To comply with COVID-19 requirements, we ask that you check-in upon arrival and be escorted to your table. Please be mindful of other guests and stand at least 6 feet apart while waiting to be seated.