Enjoy Sunday brunch served socially distanced, in the privacy of our kitchen garden.
Click the event name in the schedule below for specific event details and to make reservations.
Weekend Brunch
10:00 am Seating – Table Reservations
Gazebo – 6 available, seating 2 to 10 guests
Greenhouse – 3 available, seating 4 to 6 guests
Chef's Table – in The Kitchen, seating up to 10 guests.  Please inquire if you have groups larger than 10.
12:15 pm Seating – Table Reservations
Greenhouse – 3 available, seating 4 to 6 guests
Gazebo – 6 available, seating 2 to 8 guests
Chef's Table – in The Kitchen, seating up to 10 guests
Menu
For each brunch our garden-inspired prix fix menu will feature three courses, from a warm pastry board upon arrival, through a family style savory breakfast favorite, finishing with a sweet brunch treat. The menus are inspired by seasonal produce from the garden, enjoying the best that our region has to offer.
Please let us know if you are vegan or have a gluten intolerance.
Longbottom Coffee, Steven Smith Teas, juice, and sparkling water are available.  Mimosas are always ever present and available for purchase.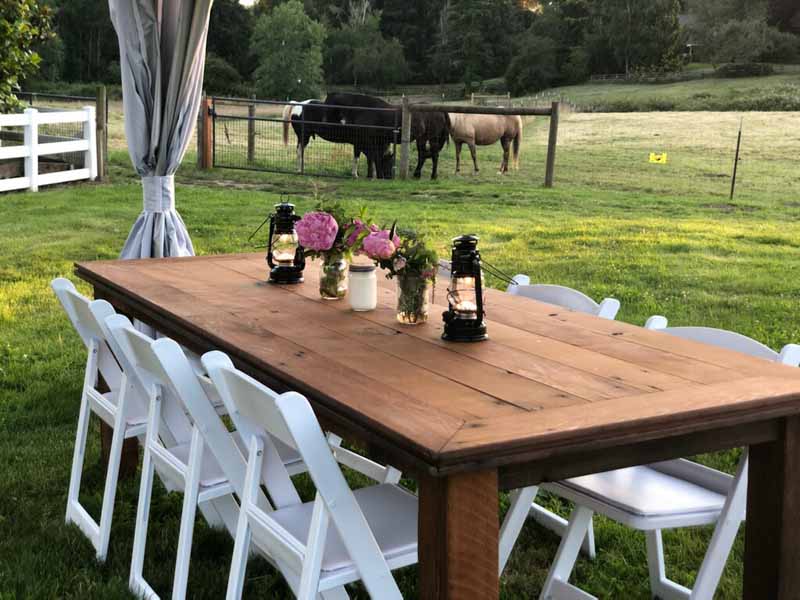 The Gazebos
Al fresco dining at a reclaimed wood table in the green grass near the gardens. Covered with a crisp white tent with lovely twinkle lights with optional walls for privacy or weather protection. Each gazebo accommodates 2 to 10 guests.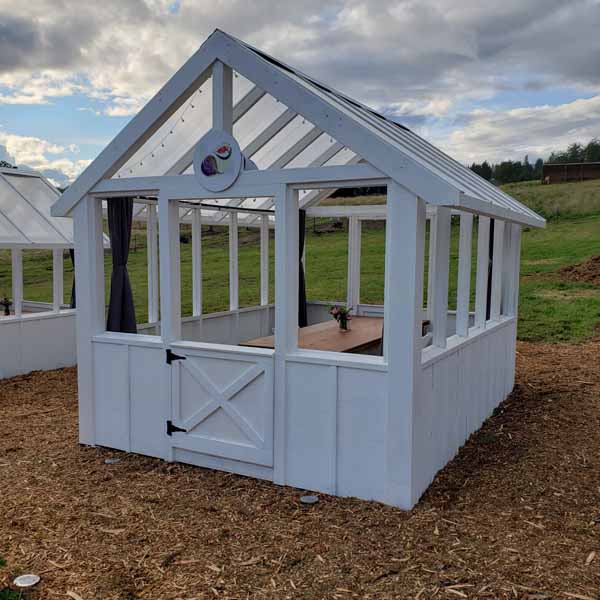 The Greenhouses
Enjoy an intimate dinner for 4-6 people in your own cozy garden-side greenhouse. The space is fully enclosed with Dutch-style doors at each end and glass walls – enough openness to feel the breeze, but completely private without losing your view of the gardens.
Chef's Table
A taste of what you are used to enjoying at The Kitchen! You will enjoy an indoor dining experience at our reclaimed barn wood table in the active kitchen. You'll be served by one of our chefs as they work in our open kitchen to prepare dinner.
Pricing
$50 per person for brunch, plus beverages
$20 corkage fee for bottles brought to the garden.
NOTE: Your table deposit will be applied to your final bill.
Upon Arrival
To comply with COVID-19 requirements, we ask that you check-in upon arrival and be escorted to your table. Please be mindful of other guests and stand at least 6 feet apart while waiting to be seated.   For the 5 pm seating, we ask that you be mindful of the timing of the 7 pm seating to allow for proper cleaning for the next guest.  You may relax at the firepit if you're just not ready to go.
Table Reservations
Table reservations are made on a first-come, first-reserved basis with a deposit required.
Gratuity
Groups of 6 or more will have a 20% service charge added to the final bill.