Cancellation Policy
Due to the nature of our events, classes, and dinners, all payments are non-refundable or exchangeable. If you find yourself unable to attend, you may transfer the ticket to someone else. However, we are unable to refund, exchange, or apply a credit to another offering. All payments are final.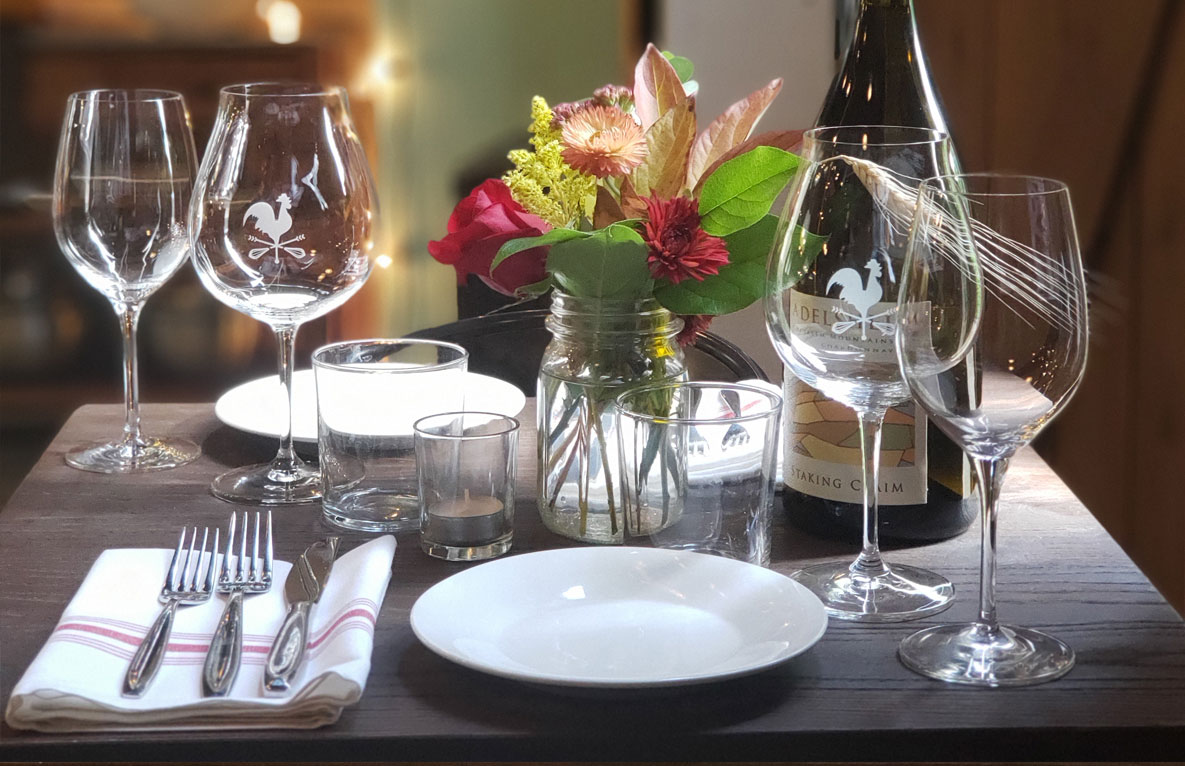 Date Night Out – Chef's Tasting Menu
November 19, 2021 @ 5:30 pm

-

9:00 pm

|

$50.00
A lovely new way to enjoy seasonal cuisine at The Kitchen!  If you are an adventurous eater that loves to learn more about food – this is the perfect night for you.
MENU
Fried Castelvetrano Olives stuffed with Fontina Cheese
Beef Carpaccio and Focaccia
Fresh Fettucine with Shaved Truffles
Ginger and Fennel Granita
Butter-Poached Black Cod Parcels with Cavolo Nero, Preserved Lemon and Wild Mushrooms
Gorgonzola Cheesecake with Red Wine Poached Pear
Dark Chocolate Mousse and Prosecco Pomegranate Jelly
Here's what the evening will look like:
UPON ARRIVAL
We will welcome you into the new Wine Barn next to The Kitchen at any time between 5:30-6pm.  You'll have a few minutes to join sommelier Jean Householder to learn about some of the wines recommended for the evening and start with a tasting of what looks good to you.
DURING DINNER
Then you'll be led into The Kitchen where our chefs and service staff will guide you through a 2 1/2 hour culinary experience.  As always, we blur the lines between kitchen and dining room….sharing what we can about the ingredients we are exploring and showing you techniques that make the ingredients shine.  You will enjoy a seven course meal of small plates paired with in-depth culinary instructions.

PURCHASING WINE
Recommended wines available by the bottle.
MORE DETAILS

SEATING: Seating will be offered for parties of 2 at each of our bistro tables, and 4-8 person groups at our two Chef's tables.
DEPOSIT: A $50 table deposit is required and will be deducted from your final bill.
PER PERSON PRICE: A per-person cost of $125 will be billed at the close of the evening minus the table deposit.
GRATUITY: Service gratuity is gratefully accepted on your final bill. A 20% gratuity is added for groups of six (6) or more.
Unfortunately, due to the intricacies of the menu, substitutions are not accommodated.  We would be able to omit items from the plate to avoid allergies.