Cancellation Policy
Due to the nature of our events, classes, and dinners, all payments are non-refundable or exchangeable. If you find yourself unable to attend, you may transfer the ticket to someone else. However, we are unable to refund, exchange, or apply a credit to another offering. All payments are final.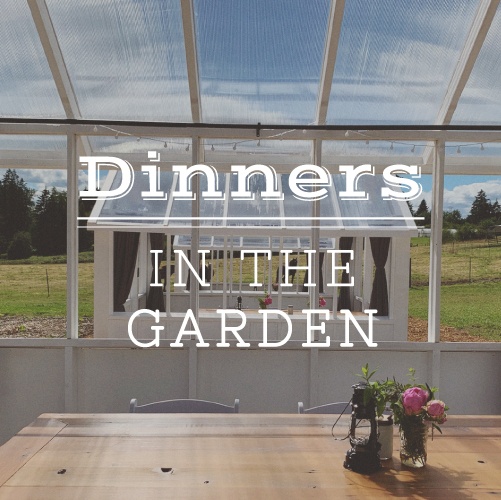 Dinners in the Garden – Taste of Puglia with Guest Chef Kathryne Bennett
August 12 @ 7:00 PM

-

9:30 PM

PDT

|

$50.00

Enjoy a 4-course family-style menu Italian menu created by Guest Chef Kathryne Bennett of Bionda Foods, served in the privacy of our private garden.
The Menu & Pairings
Each week our garden-inspired prix fix menu will feature four courses, from a nosh board with fresh-baked focaccia and with warm olives all the way through dessert. 
This weekend's menu is a special treat, featuring Chef Kathryne's extensive research and experience creating regional Italian cuisine. The menus incorporate seasonal produce from the garden, enjoying the best that our farm and region has to offer.
Please let us know if you are vegan or have a gluten intolerance.
Our sommelier has created an optional wine pairing to enhance the meal and will make additional suggestions. Your choices may be made prior to your dinner.
Antipasti
The Kitchen's traditional Nosh Board with fresh focaccia, cured meats, dried fava bean puree, pickled green tomatoes sott'olio & burrata cheese
Salad
Green Cerignola Olive, Celery and Fresh Chili
Primi
Long Fusilli With Roasted Breadcrumb, Sweet Leaf Farms Heirloom Tomatoes and Canestrato Pecorino
Secondi
Sudan Farms Lamb Stewed in Middleground Farms Goat Milk With Fennel
Contorni
Smashed and Fried Fingerling Potato With Lovage
Marinated Cauliflower With Chili, Parsley, Caper, and Anchovy
Dolci
Almond Meringue Tart With Lavender Oregon Blueberry Compote
Due to the intricacies of this menu, we will only be able to provide gluten free pasta for the Primi course, vegan alternatives for the Secondi course, and a gluten and nut free Dolci alternative, upon request.
Options & Registration
TABLE OPTIONS:
You are able to choose from the following:
Chef's tables for 4-10 person groups
The Wine Barn for one group of 4-10 guests
Garden greenhouses for parties of 4-6
Garden gazebos for parties of 2-20
DEPOSIT: A $50 table deposit is required and will be deducted from your final bill.
PER PERSON PRICE: A per-person cost of $95 will be billed at the close of the evening minus the table deposit.
WINE PAIRINGS: Each wine pairing is $50 per person, in addition to the per-person cost.
GRATUITY: Service gratuity is gratefully accepted on your final bill. A 20% gratuity is added for groups of six (6) or more.
Additional Details
If you have a party larger than 10, call The Kitchen at 503-746-3030 to allow us to assist you with your reservation.
Please let us know if you or any of your guests are vegan or have a gluten intolerance.