Cancellation Policy
Due to the nature of our events, classes, and dinners, all payments are non-refundable or exchangeable. If you find yourself unable to attend, you may transfer the ticket to someone else. However, we are unable to refund, exchange, or apply a credit to another offering. All payments are final.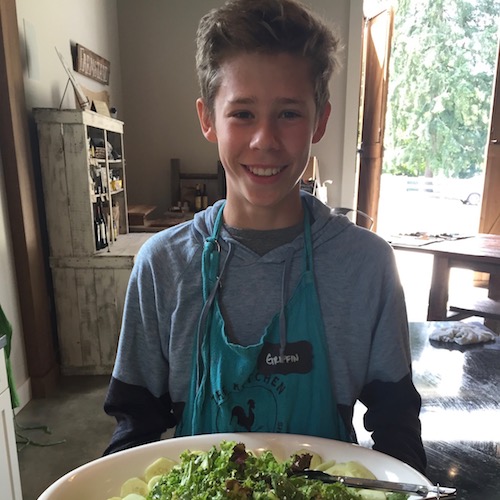 SOLD OUT//Kid's Camp: Farm to Table in Spring!
March 22 @ 9:30 AM

-

March 24 @ 1:00 PM

PDT

|

$225.00
KIDS CAMP
Come for 3 days, Tuesday, Wednesday & Thursday 9:30am-1:00pm. Ages 8 and up welcome!
If you've got a budding chef in the works, or you just want raise a more competent little human in the kitchen, this is the place for your child for Spring Break.  Each day starts with kitchen cleanliness and safety, then transcends into basic knife skills with a focus on efficiency and working smarter through fun and engaging meal preparation. They will spend time outside on the farm, learning the importance of the connection between farm and kitchen, and even get to spend some time with the animals & planting starts in the garden. By the third day, we think your savvy new cook will be begging to show off their improved kitchen skills at home, with a greater respect for where their food comes from.
Tuesday: Got Milk?
We'll learn about the magical enzymes of fresh dairy! From the care of dairy animals to the types of milk, we'll learn all about what you can do with milk. We'll make homemade yogurt, ice cream, and fresh salted butter– all from scratch! Plus we'll make our own milk bread, perfect for the fanciest grilled cheese sandwiches!
Wednesday: The Chicken or The Egg?
Starting with a trip to visit the ladies in the coop to collect eggs, and maybe a little snuggle time with baby chicks, the kids will learn about taking care of chickens outside – and in The Kitchen!  From basic egg cookery to complex egg-based delights, we'll feel the heat making crispy chicken stirfry, muffin-pan breakfast sandwiches, and vanilla bean popovers with lemon custard.
Thursday: Flour Power! Gaining confidence in baking is important regardless of your age!  This is a class you will wish you took WITH your kiddo!  From the basics of doughs and batters, they'll learn the hows and whys of easy baking, creating sweet scones, crunchy granola (that we'll enjoy with our yoghurt from Tuesday!), and fresh pizza.
$225 per person for a three-day camp, or $85 per day.  Call 503-746-3030 for "per day" registration.