Looking for easy and healthy weeknight meals? Try this recipe we showcased on KATU's Afternoon Live! Learn more recipes like this at one of our upcoming Simple Seasonal Suppers classes, Pressure Cooker class, or Sheetpan Meals class!
Quick Mediterranean Chicken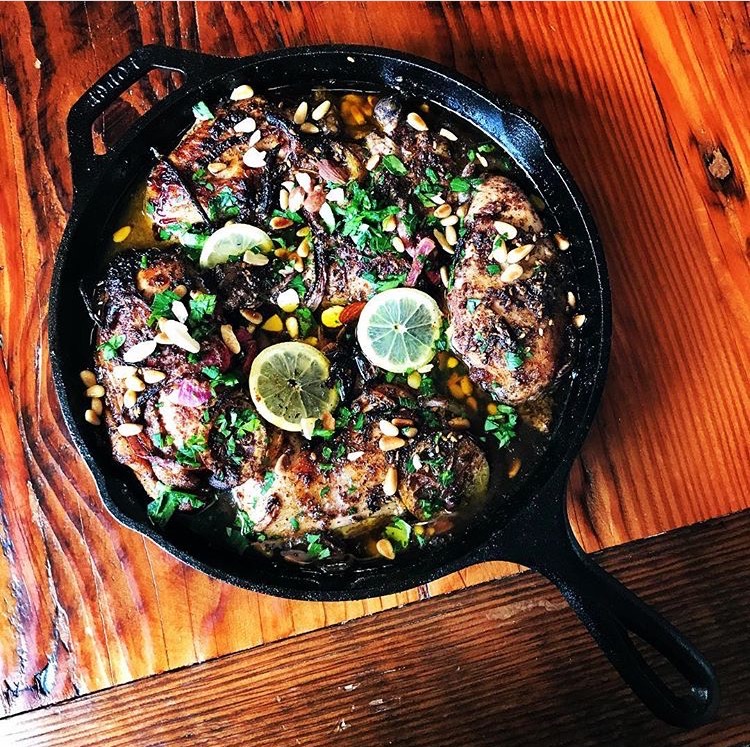 Serves 4
for the spice rub
1 teaspoon salt
¼ teaspoon ground cumin
¾ teaspoon turmeric
¾ teaspoon paprika, more for later
1/8 teaspoon cayenne pepper
freshly ground pepper
7 large garlic cloves, chopped or pressed
2 tablespoons olive oil
1 medium red onion, sliced or roughly chopped
1 large lemon
Extra virgin olive oil
Salt and pepper
1 whole chicken, cut into pieces (alternatively, chicken breast or thighs)
1 tablespoon za'atar, optional
1 tablespoon toasted pine nuts
½ cup pitted green olives
½ cup chopped fresh parsley leaves
In a small bowl, prepare the spice rub by combining first 8 ingredients.
Preheat the oven to 400 degrees F.
Cut the lemon in half and set one half aside.  Cut the remaining half into thin slices, then arrange the slices onto a foil lined sheet pan.  Scatter red onions on the lemon slices.  Drizzle with olive oil and sprinkle with salt & freshly ground pepper.
Place the chicken on the onions & lemons on a sheet pan (or alternatively in a cast iron pan) and spread the rub on each piece. To ensure good flavor, work some of the marinade underneath the skin of the meat. Sprinkle with za'atar.
Place the chicken in the 400 degrees F heated-oven; roast for 40-45 minutes
Remove from heat, and squeeze with remaining lemon juice. Garnish with the olives, toasted nuts, and fresh parsley.
Enjoy!